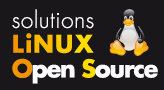 10, 11 e 12 Maggio 2011 a Parigi si terrà il salone dell'opensource.
Precisamente al centro congressi CNIT – La Defense – Gall Marie Curie.
Sito ufficiale: http://www.solutionslinux.fr/
I talk si terranno in francese, salvo alcuni sporadici casi. Il programma del 10 è il seguente:
09H15 à 09H30 – SALLE MONET
Intégration Java et Architecture SOA : formez-vous et relevez les défis de vos clients !
Intervenant :
Douglas MBIANDOU , Responsable formations JAVA, OBJIS

09H35 à 09H55 – SALLE MONET
Linux in the Cloud
As one of the most widely deployed operating systems today, Linux is increasingly being adopted for cloud-based solutions. Join Oracle's Wim Coekaerts as he talks about the …
Intervenant :
Wim COEKAERTS, Senior Vice President, Linux and Virtualization Engineering, ORACLE CORPORATION

10H00 à 10H20 – SALLE MONET
Microsoft et l'Open Source, une collaboration tous azimuts
James Utzschneider, Directeur de la stratégie mondiale de Microsoft en matière d'Open Source présentera les différents axes de collaboration entre l'Open Source et …
Intervenants :
James UTZCHNEIDER, General Manager, MICROSOFT
Alfonso CASTRO, Directeur de la Stratégie Interopérabilité, MICROSOFT

10H25 à 10H45 – SALLE MONET
Projet Meego
MeeGo project provides a unique approach to developing consumer products through its open and inclusive ecosystem and range of device segments. This keynote will review the …
Intervenant :
Valtteri HALLA, Director Technology and Innovation , INTEL

10H50 à 11H15 – SALLE MONET
L'open source reste l'avenir de l'informatique
Le marché de l'Open Source a un peu plus de 10 ans. Il a connu en "France" un formidable développement jusqu'en 2007. Depuis, déclinologues et autres pessimistes pensent que …
Intervenant :
Alexandre ZAPOLSKY, PDG, LINAGORA

11H20 à 11H35 – SALLE MONET
Open Source, DSI et innovation managériale
Le modèle de management prédominant dans les organisations traditionnelles est en pleine remise en cause. Les DSI sont sollicitées pour accompagner ces besoins de …
Intervenant :
Véronique TORNER, Co-présidente, ALTER WAY

11H40 à 11H55 – SALLE MONET
Unity et Ubuntu Desktop pour l'entreprise
Cette présentation aborde les dernières évolutions du bureau Ubuntu Linux, de l'interface Unity et discute leurs avantages pour un poste de travail professionnel. Ubuntu est …
Intervenant :
Nicolas BARCET, Ubuntu Server Product Manager, CANONICAL

12H00 à 12H20 – SALLE MONET
OSOR.eu, open source for public administrations
Since 2000, the European Commission has been supporting the use of Free/Open Source Software for internal use. Prominent examples include the recommendation to use Linux as …
Intervenant :
Panagiotis Rentzepopoulos, Dr., OSOR.eu Consulting Team
Inoltre saremo presenti anche noi di IHTeam allo stand numero B48 con Backtrack Linux
See you there!