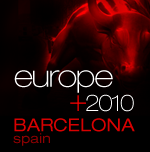 Come tutti gli anni anche nel 2010 si svolgerà il black hat event 2010. Due eventi che si svolgeranno in europa (12-15 Aprile, Barcellona) e USA (31 Gennaio-3 Febbraio, Arlington, VA).
I costi sono piu o meno i seguenti:
Briefings:

Super Early:

$1095

//Oct 15 – Nov 15
Early:

$1295

//Nov 16 – Dec 15
Regular:

$1495

//Dec 16 – Jan 15
Late:

$1695

//Jan 16 – Jan 30
Onsite:

$1995

Training: $1800 – $3800 per course
La lista dei corsi che si potranno svolgere durante il Black Hat DC 2010 sono:
Detecting & Mitigating Attacks Using Your Network Infrastructure
// John Stuppi, Cisco Systems, Joseph Karpenko, Cisco Systems & Tim Sammut, Cisco Systems
Learn leading network security practices from experts who develop these techniques and put them to practical use.
---
Hacking by Numbers: Bootcamp
// SensePost
Novice level. A highly practical course that teaches method-based hacker thinking, skills and techniques.
---
Hands-On Hardware Hacking and Reverse Engineering Techniques: Black Hat Edition
// Joe Grand
This course is the first of its kind and focuses entirely on hardware hacking.
---
Incident Response: Black Hat Edition
// Dan McWhorter, MANDIANT
Specifically designed for information security professionals and analysts who respond to computer security incidents.
[ad]
---
Designing Secure Protocols and Intercepting Secure Communication
// Moxie Marlinspike
Attendees will be given advanced copies of exploit tools used to intercept secure email, web, and VPN traffic as well as training and practice in using them covertly and effectively… attendees will walk away with everything they need to intercept several types of secure communication.
---
Mac Hacking Class
// Vincenzo Iozzo & Dino Dai Zovi
The aim of this class is to provide the student with all the skills needed in order to fully perform research on this OS. Specifically how to write payloads, what are the tools needed to perform research and all the hidden oddities of OS X which other UNIX-based systems don't have.
---
The IDA Pro Class: Reverse Engineering with IDA Pro
// Chris Eagle
Essential background material for effective reverse engineering.
---
Secure the Human
// Lance Spitzner, Honeytech
Everything you need to plan, deploy and maintain a successful awareness and training program.
---
Information Assurance Officer (IAO) Course (CNSS-4014E) Certified vice Senior System Manager (CNSS-4012 Certified)
// Information Assurance Associates (IA2)
Very intense, highly concentrated, non-technical professional training necessary to achieve the fundamental knowledge needed to define, design, integrate and manage information system security policies, processes, practices, and procedures within federal interest information systems and networks.
---
Tactical Exploitation
// HD Moore
Using a combination of new tools and lesser-known techniques, attendees will learn how hackers compromise systems without depending on standard exploits.
---
TCP/IP Weapons School 2.0
// Richard Bejtlich, TaoSecurity
Learn how networks can be abused and subverted, while analyzing the attacks, methods, and traffic that make it happen.
---
Web Application (in)Security
// NGS Software
If you are concerned with the security of web applications and the insecurity they introduce to your back end information systems this is the workshop for you.
---
Ultimate Hacking: Wireless
// Brad Antoniewicz, Foundstone
Foundstone's Ultimate Hacking: Wireless class takes an in-depth look at current attacks against wireless networks. The hands-on, Linux-based class starts off with an overview of the IEEE 802.11 protocol then dives deep into hardcore attacks used in the real world.
Per tutte le altre informazioni vi rimando al sito ufficiale dell'evento: http://www.blackhat.com