We all know that the best way to destroy data on a hard drive is to use "shred" (with random, at least 11 passes and bla bla bla).
But, seriously, who will wait 160 hours to shred 1 TB filesystem of porn and dump???
If you're wondering, no, this is not a real research!
Let's do it our way!
Remove the label (that to keep out dust) and sneeze inside;
Unscrew the hard drive (Pay attention to a possible mucus of point one);

Scratch the surface of the hard disk. The best way is shown below:

screwdriver is perfect! This is the result:

Burn the bus connector. It may contain informations like "01110010011001010110000101101100011011000111100100111111" !

Start the "First pass" on the hard drive:
After 1h, you can see the result:
Repeat it 11 times or until it becomes ashes!
It does not become ashes? Do as he:
Here we have a graphic comparison between Gutmann method and our method (Fuck yeah!)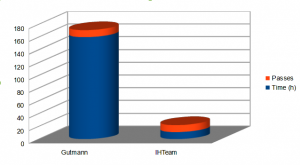 As I said… for fun and idiocy!